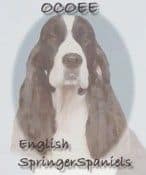 Ocoee Springers and their people
This is Dawn and Dominic Shrewsberry, with their boys Seagram (on the left, bred by our good friend Mike Bockhorn) and Jackson, who is from our Ch. Rugby ex Ch. Millie litter. Seagram and Jackson come to visit often and love to play with Millie, Theo and Amy!
These are the Holzem children with their boys Nigel (Ch. Andy ex Ch. Millie) and Linus (Ch. Rugby ex Ch. Millie). Inseparable companions all!
Summer, 2009-Our lovely and sweet 'Reece' (Ocoee Mirror Image) found the perfect new home. She is living with (and loving!) Diane and Keith Wenning. It's a perfect match and we are delighted that Reece has her own family. Thanks guys for giving Reece exactly what she wanted.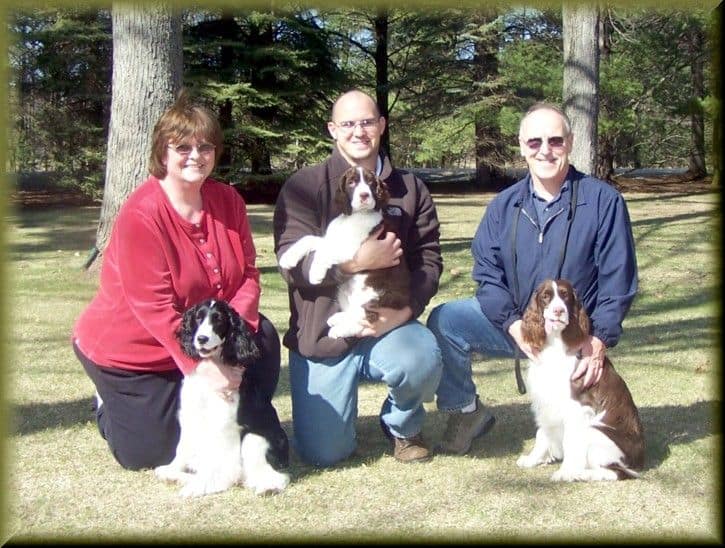 In the summer of 08, the Early family got Marley, the black and white girl sitting on the left, from our Ch. Andy ex Ch. Millie litter. They love her so much that they came back and got her a little brother, Alvin, pictured on the middle, who is out of our Ch. Tuggy ex Ch. Marilyn litter that was born in January of 09. They brought the pair over to play with our girl, Marley's sister Amy, pictured on the right. It was a party!
Best friends-Rugby Jr. and Oakley kayaking on the lake with one of their boys. This is what having dogs is all about! For more on these two dogs see the Latest News Page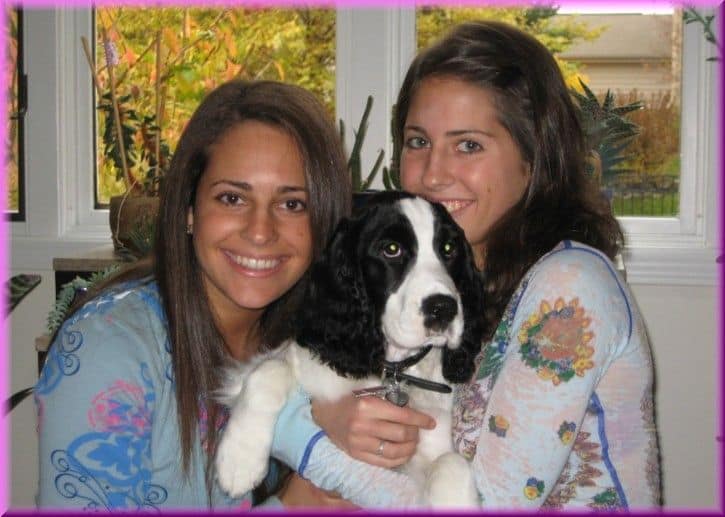 This pretty girl (between the two other pretty girls!) is Sophie. She is owned by Denny and Carol Lewinson and family. She is from our Ch. Andy ex Ch. Millie litter born July 2. Sophie is currently enjoying attending puppy class and is soon to start going to doggy day care three days a week so she will have pals to play with.
Bill Earley is enjoying fall with his new puppy, Marley. She is from our summer 2008 litter by Ch. Andy ex Ch. Millie.
Shannon Holzem from Wisconsin took "Nigel" home to be a show and agility dog and a companion for her two adorable little girls. Nigel is from our July 2 litter sired by Ch. Andy ex Ch. Millie. It looks like a perfect match!
The Rostowsky family (see below) were so happy with their puppy from last year's litter (Ch. Rugby ex Ch. Caroline) that they came back and got him a little sister named Oakley out of Ch. Charlie ex Ch. Spirit.
This is Rugby Jr. who is owned by Michelle and Kevin Rostowsky and family of Kennesaw, GA. This beautiful puppy recently passed his Canine Good Citizen Test at nine months of age!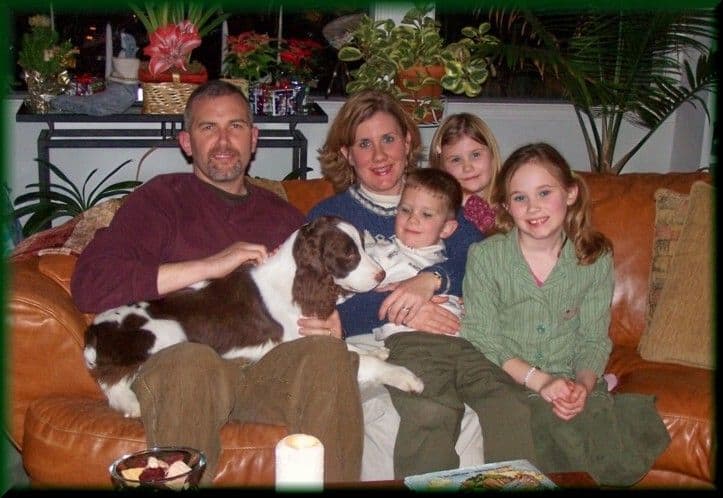 This is Jewel, owned by Ron and Jennifer Cooper and family of Fort Hood, Texas. Jewel keeps her family company while Ron, who is an Army Chaplain, serves our country.