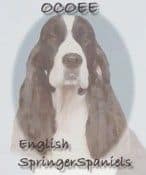 Proudly presenting some dogs from our past.
"Herbie", whelped in 1972, is the dog who started it all for Ocoee Springers. He was truly a "once in a lifetime dog". Completing his Championship as a puppy, he quickly moved on to a limited, off and on Specials career that culminated with top ten Springer rankings for three years running. He had multiple all-breed and Specialty Best In Shows and was a non stop showman, never requiring a hand on him.

He left a wonderful legacy for the breed as he was a fabulous producer. He sired 66 American Champions, which made him the breeds top producing black and white sire, a record which he held for twenty years. He was instrumental in the establishment of many modern breeding programs and we are incredibly proud that he can be found in the pedigrees of many of today's top producers.

Herbie was a remarkably intelligent and intuitive dog. He was our best friend and constant companion and he set the bar high for all the Springers that followed him in our lives. Every Springer Champion bred by Ocoee to date is descended from this wonderful dog.


Ch. Winacko's Classic Replay CD
Ch. Ocoee Living Proof

"Bo" was sired by Herbie out of Ch. Loujon Spring Line. He finished his title with three Specialty majors and was a Specialty Best of Breed winner. Bred sparingly, he sired 30 Champions, most of which had big Specialty wins themselves. Bo was a gentle soul, and when Herbie died, Bo took his place on our bed and in our hearts. We still feel that he was the most beautiful Springer we have ever produced. His headstudy graces the top of every page of this website.

Bo's outstanding influence on the breed is seen still today through the top winners and producers of many successful breeding programs around the country and in Australia.
| | |
| --- | --- |
| "Widget" was sired by Ch. Ocoee Living Proof out of Ch. Shinnecock Optimum Tribute. She completed her title with four majors under spaniel experts. Widget figured prominently in our breeding program as she produced three Champion daughters who all contributed strongly to the breed. Ch. Ocoee California Girl was a Parent Club Dam of the year and grand-dam of the all-time top Specialty Best of Breed winning male Ch. Ridgewyn Legacy. Ch. Ocoee Whispering Jesse was BOS at a National Specialty and produced a daughter who was Best of Winners at a National and was grand-dam of a top-winning BIS dog. Ch. Ocoee Raven's Child was exported by us to Australia where she completed her Australian Championship with ease and has had a major impact on the breed in that country, with Best In Show winning children, grand-children and great grand-children. "Widget" lived to the wonderful age of 15 as the beloved companion of a retired court judge. | Ch. Ocoee Oblique |
| | |
| --- | --- |
| Am. and Australian Ch. Ocoee Raven's Child | "Raven", one of Ch. Ocoee Oblique's daughters, completed her American title with four majors. Soon afterward, we were approached by Jennifer Lawrence in Australia about the possiblilty of sending a Springer "down under". After a year of correspondence, Raven flew to a new world, and she has made a huge impact on the breed in Australia. Her son, Gr.Ch. Tholia Take It To The Max, is the top winning black and white Springer in history in that country. In all, Raven has seven Aust. Ch. offspring and scores of Ch. grand and great-grand children. Raven's Australian owner has become a wonderful friend and in the ensuing years has come to America to visit us three times. Kathy was delighted to spend ten days in Australia with Raven in the spring of 2003. She lived to be nearly 14 as Jennifer's wonderful companion. |
Click here to see more Champions from Ocoee
| | |
| --- | --- |
| At Ocoee, it's not just about show dogs. We are dedicated to providing the most wonderful family companions and want every dog we sell, show or companion, to live a life of luxury in the house with their family! We believe that all show dogs should be family members first and show dogs second. | The Meier children with Amy and her son Brody. This is what we breed for! |
| | |
| --- | --- |
| The original Ocoee family of dogs | This family portrait of Kathy and John with the dogs was taken in 1991. On the bench are, left to right, Ch. Shinnecock Optimum Tribute and Am. (and later Aust.) Ch. Ocoee Raven's Child. The front row, left to right; Ch. Ocoee Haute Couture, Ch. Ocoee Living Proof, Ch. Ocoee Tiffany's Fantasia, Ch. Tiffany's Elegant Image and Ch. Tiffany's Elegant Proof. All descended from "the original", Ch. Winacko's Classic Replay, and all very special in our lives as friends and companions. |
Website created and managed by Kathy Lorentzen. All content and photographs Copyright 2016 All Rights Reserved.