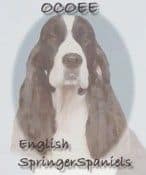 Here are the current dogs at Ocoee.
"Halle" is by Ch. Gilchrist Tomahawk out of Ch. Legendary Hearts Afire. She was bred by and is co-owned with our friend Liz Kiener. She is OFA Good and ACVO Normal.

Halle had four litters of puppies for us, and was a wonderful mom-an easy whelper and a devoted dam who loved her puppies. She has four Champion children including the outstanding producers Ch. Marilyn and Ch. Rugby, pictured below. We are thrilled with Halle's contributions and very grateful to Dave and Liz for letting us have her.

Halle is retired and living the life of leisure on Melanie's couch, where she supervises and watches over the next generation of newborns. At age fourteen she is still doing great!
Below are "Rugby" and "Marilyn"-sired by Ch. Wil-Orion's Northern Exposure out of Ch. Legendary Shimmer. Click on Rugby's picture to see their pedigree. They were born on January 5, 2005.
Am/Can. Ch. Ocoee Have An Absolute Ball




Rugby finished his championship handled by Melanie with four majors (two five point and two three point) from the BBE class. Amazingly, he was shown at only four all breed dog shows and he received a major at each of them, Best of Winners each time and once Best of Breed over seven Specials. Rugby is OFA Excellent, elbow normal, OFA Cardiac Normal, CERF certified, a DNA PRA carrier and a proven sire.

Rugby is proving to be an excellent sire, with one CH finished, another son with eight points and many Specialty wins, and a third son who was recently Best Puppy In Show both days at the TCVESSA Specialties from the baby puppy class!


Ch. Ocoee Absolute Possession



Marilyn completed her title a week past her second birthday, with all majors (4-4-4-5) from the BBE class. She was RWB and Best in BBE classes at the Saturday Chattahoochee Specialty and BW and Best in BBE classes at the Sunday specialty to finish her title in great style. Marilyn was shown at a total of nine dog shows, four Specialties and five all-breeds. She's OFA good, OFA Cardiac Normal and CERF Normal.

Marilyn is proving to be a priceless producer. She currently has five Ch children and three more with points that should finish easily.
Pictured below is Millie, who is by Ch. Springbrook Tagalong My Own Magic out of Ch. Pawmarc's Neon Hightlights. She was bred by Pat Wilaby and Bobbie Daniel. Millie is a fifth generation descendant of the bitch we sold Pat many years ago Ch. Ocoee Whispering Jesse, and she has eleven crosses in her pedigree to our foundation sire, Ch. Winacko's Classic Replay CD.

At her first dog show in January of 2006, Millie was Best In Sweepstakes over an entry of 65 puppies. Shown at a total of eight all breed shows, she was WB or better seven times. At Specialties she was BW at the ESSCM annual fall specialty, RWB at four other Specialties and 3rd in Open at the 2007 ESSFTA National. She finished with 17 points, three majors, shown exclusively by Kathy.

Millie is OFA Good, OFA Elbow Normal and CERF certified. Millie is an outstanding brood bitch in every way and her children as as smart and beautiful as she is. Many of them are competing and winning in both the conformation and performance rings. She currently has four CH children and many more children that have points, majors and prestigious Specialty wins. We treasure her!
| | |
| --- | --- |
| Ch. Pawmarc Ocoee Light The Way | Unretouched candid by Jacquie Dean |



Grand Ch.Ocoee DSQD With A Vengeance




Meet "George"! He is from our spring 2008 litter by Ch. Sprucehaven Under Time NA NAP NAJ WD ex Ch. Will-Orion's Illusion.

George's career has been nothing short of amazing. He won Best in Sweepstakes at both 2009 Chattahoochee Specialty shows and at the 2009 Eastern ESSC Specialty. He completed his title with three five point Specialty majors (Eastern, Michigan and TCVESSA) and an extra major from the puppy class!

He was Best Puppy in the ESSCM Invitational Puppy Extravaganza.

George is having a wonderful career. Exclusively breeder owner handled by Melanie, he is a multiple group winner and to date has six Specialty Best In Show wins! He was a top ten Springer for 2011 and is well up in the top rankings for 2012 as well.

At the 2012 National Specialty, George was the People's Choice Award Winner at the Top Twenty event, and won a Judge's Award Of Merit! He was also sire of the lovely puppy that won Best In Sweepstakes at the National.

George is OFA good, OFA Cardiac Normal, OFA Patella Normal and a PRA DNA carrier. To see his pedigree click on his photo.

Click here to see many more photos of George and follow his career!
Meet Theo, the boy we kept from Ch. Silverhill Sea Dog Go out of Ch. Ocoee Absolute Possession. He was born January 11, 2009.

Theo has been a breeders dream come true. He started his career with:

Best in Sweepstakes at the National Specialty from the 6-9 class and 1st in the regular 6-9 class!

Following this auspicious debut, Theo never looked back. Shown in nine Specialty Sweepstakes, he was Best In Sweeps at six of them and Best of Opposite Sex at one.

He finished his title by going BW and Best Puppy at American Spaniel Club in 2010, then two weeks later going WD at Chattahoochee ESSC, then at his very next Specialty (Susquehanna Valley) he was BW for his third Specialty major and his title at 14 months of age!

At just two years of age he was Best In Show at the Chattahoochee Specialty show over a huge entry for his first five point major towards his Grand Ch. title. The following year he once again won Best of Breed at Chattahoochee for another five point major toward his Grand title!

At the 2012 National Specialty, Theo thrilled us by winning first award of merit in an entry of 88 Specials. We look forward to showing Theo more in the coming years once George retires from his active campaign.

Theo is already the sire of four Champions and several other pointed offspring who have amassed eight Best In Sweeps wins and 17 majors! We think he is a super sire!

Theo is OFA hips Excellent, OFA Cardiac Normal and CERF certified.

To see his pedigree click on his picture.


Ch. Ocoee Go Figure

Ocoee Figure It Out

Benny is Theo's first born son, out of Ch. Pawmarc Ocoee Light The Way.

He has been so much fun so far! Best of Winners for five points at his very first show at seven months of age, then Best in Sweepstakes at American Spaniel Club, then Best of Winners at WESSA, then Best in Sweeps and Puppy of the Year at ESSCM!

Benny has 13 points and will finish soon. He is OFA Excellent, OFA elbow normal, CERF 2012, and already the sire of four beautiful litters of puppies. He is SO LIKE his ancestor Living Proof, I absolutely adore this dog.
Jolie is the only girl from two breedings of our Ch. Ocoee Absolute Possession to GCh. Silverhill Sea Dog Go. It only takes one if it is a great one and that is what we think Jolie is!

Shown only a mere handful of times, Jolie won Best in Sweepstakes, BBE Sporting Groups and BW at TCVESSA, BW and BOS at ESSFTA Supported entry show at Ft Wayne, and to finish she was WB, BW and BB over many specials at TCVESSA under breeder judge Judi Andersen!!

We think that Jolie is the best bitch we have ever bred. She is currently in whelp to four time Sire of the Year Ch. Springbrook Tagalong My Own Magic. We are excited!!


Ch. Ocoee Go Wild

Ocoee Away We Go

Zac Brown is the boy that we kept from the second breeding of Theo and Millie. He might simply be the best dog we have ever bred!

Shown only four weekends and at the National, Zac has 12 points, two Specialty majors, two Best In Sweepstakes and first in his sweeps class at the National.

Beautiful, sweet, sane, sound and lovely Zac! We so look forward to his future.
Click here to see many more Champions bred and owned by Ocoee
Back to top